Roof Replacement & Installation Services in Seattle-Tacoma
Call The Roof Replacement Expert Serving Greater Seattle Since 1995.
Roof Replacement & Installation Services
COMPOSITION | ASPHALT | CEDAR SHAKE | METAL & SHAKE ROOF SPECIALISTS
We're a family-owned and operated roof replacement company with roofers operating in the Seattle area since 1995. Our team is proud to provide expert roof installation & roof replacement service to greater Seattle. Our employees are highly skilled, knowledgeable, and deliver fast, friendly service that is honest and fair.
Annually, we complete five hundred siding and roofing jobs for both residential and commercial applications. We believe our quality workmanship, outstanding service, and our unbeatable price value are the reason we have so many satisfied customers from roofing renovations in the Seattle area.
From our roofing material delivery team to our roof installation manager, we consider your project with the utmost importance! We bring decades of Pacific Northwest and Seattle Area roof expertise!  Since 1995 Side Pro's experts have helped thousands of satisfied homeowners choose the right roofing products and solutions. We are able to provide you with everything you need, every step of the way. As residential roofing specialists, we work with all types of roofing materials. Whether you are in need of a composite or asphalt roofing replaced or installed, Cedar Shake Shingle Replacement, Modern Metal Roofing, Flat Roofs or a custom exterior renovation, Side Pro's Roofing team has you covered!
Quality, safety & customer satisfaction are our focus. 
If you are need of expert roofers for your replacement service please contact us for a free estimate. We service the entire Seattle Metro area, including Bellevue, Tacoma, Everett, Lynnwood, and surrounding neighborhoods. Side Pro's roofers have completed exterior remodeling & renovations from Queen Anne in Seattle to Medina in Bellevue. 
We are based out of Woodinville, Washington, and serve over half of Washington State including King, Snohomish, Pierce, Skagit, Whatcom, Kitsap, Chelan, and Kittitas Counties.
FOR A FREE ESTIMATE CONTACT US ABOUT YOUR PROJECT : 425-486-4777
---
ROOFERS PROVIDING SEATTLE ROOF REPLACEMENT & INSTALLATION SERVICES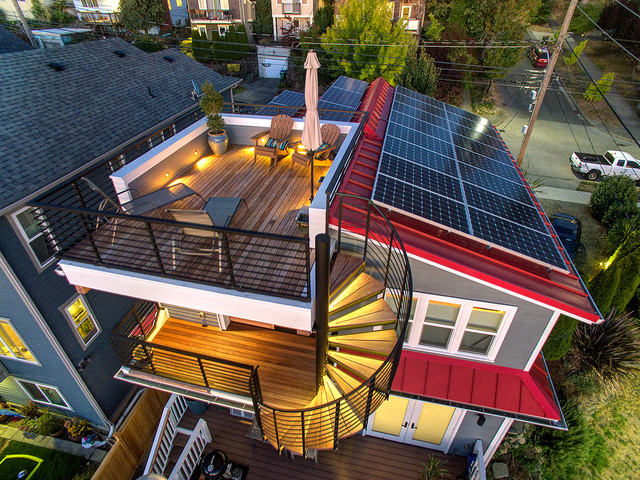 ---
THE GREATER SEATTLE ROOF REPLACEMENT CYCLE: HOW WELL DO YOU KNOW YOUR ROOF CONDITION? 
The Life Cycle of a Roofing Shingle
When your new roof was installed or your Greater Seattle roof replacement was finished, friends and neighbors may have remarked how it enhanced the beauty of your home. However, research indicates that aging begins soon after your roofing installation or the the shingles are installed and progresses rapidly during the initial curing phase of its life cycle. During this stage, granule loss may occur, small blisters may develop, or the shingles may curl slightly at their edges. You may even notice that this curling is more pronounced during cold weather and the shingles may lie flat as temperatures rise. The good news, however, is that after this curing stage the shingles enter a long period of slow aging, which lasts for the major portion of the shingles' natural life.
During the "mid-life" period after your roofing installation, aging continues at a much slower rate. The cracking or granule loss still occurs but does not increase at a noticeable rate. Only after a long period of "mid-life" does the aging process begin to accelerate once again as the shingles enter their declining years. It's during this period that homeowners normally think about replacing their roofs.
Your roof replacement  is an important investment, since it literally protects you from the elements. While there are no magical creams or ointments to prevent your roof from aging, investing a small amount of time to examine your roof can reduce your anxiety and concerns about the normal aging conditions that affect it. Side-Pro is here to help when your roof does need shingle replacement or reroofing in the Seattle area.
How Can You Tell if You Have Bad Roofing Material (Material Defects)?
Cracking through reinforcement: Depending upon the style of shingle, the normal weathering characteristics described earlier may be a sign of more serious problems. For example, cracks across a typical three-tab shingle may be a sign of a weak reinforcement. This type of cracking threatens the waterproofing integrity of the roof and needs to be addressed immediately. For the appliqué-style shingle, on the other hand, cracks that are restricted to the unreinforced decorative appliqué are the result of normal weathering and do not compromise the long-term performance of the roof system.
Granule loss exposing asphalt: Large areas of granule loss that expose the underlying asphalt place the shingle at risk of premature failure because UV rays can now get to the asphalt layer. In situations in which hail has knocked off large areas of granules, you can expect the life of your shingles to be appreciably reduced due to the effects of ultraviolet radiation from the sun. Shingles with open blisters in which the asphalt becomes visible are also at greater risk for premature failure. These are all signs that you might need re-roofing or shingle replacement in Seattle.
Here Are Some Questions to Ask Yourself Before Your Next Roofing Installation :
What is the age of my roof? Look for old records of previous roof jobs or possibly see when your home was built.
Can you see any interior damage caused from water intrusion to your home?
Is there debris on your roof or in your gutters?
Is your landscaping overgrowing on to your roof?
Does your roof have a lot of moss growing on it?
All of these questions and more can be answered by contacting one of our professional roofing installation or replacement estimators here for a free consultation. 
ROOFERS DEDICATED TO QUALITY SERVICE & THE HIGHEST STANDARD IN CUSTOMER CARE